UK property website Rightmove eased its apparent disappointment over Home Information Packs (HIPs) today by unveiling a sharp rise in half-year operating profits.

The group reported a doubling in revenues to £15.1m, reflecting 5,000 new advertisers and a market penetration among estate agents of 74%.

Operating profits rose 138% to £8.3m in the six months to June 30, but the company's bottom-line figure was down to £1.6m from £3.4m, following the decision to stop the development of its HIPs offer.
Rightmove's HIPs withdrawal came after the Government pulled the requirement for a home condition report in the upcoming launch of HIPs. The company had invested around £7m in its offer and will incur a further £1.2m of exit costs, it said today.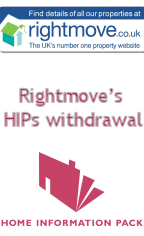 Rightmove were extremely quick to write off their HIPs plans following the government's retreat on the HCR, and so avoided the continued costs of rolling out their HIPs solution. Had the government remained steadfast in relation to the HCR, then the cash "written off" by Rightmove would have been spent anyway, and a good deal more besides.
In short, it seems that Rightmove's overblown ambitions for it's HIPs product far exceeded it's financial reach, and, ironically enough, by watering down the HIP requirements, the government has probably done Rightmove a favour.